Meticulously handcrafted in NYC
using the world's finest materials
Our Story
Because of Her
Crafted by hand in New York, Carelle's sustainable collections blend architectural edge with the stunningly simplistic for a truly modern-meets-masterpiece approach to luxury jewelry. Even in its name, "car elle"—French for Because of Her—speaks to the core focus of emphasizing the spirit, story and style of the wearer. Each unique piece is as chic and effortlessly dynamic as the Carelle woman herself, and is designed to come alive with every move she makes.
OUR FOUNDER
Chana Regev
Based in the heart of the Diamond district in New York City, Carelle thrives under the creative leadership of award winning jewelry designer Chana Regev. Chana's family have long been connected to the gemstone industry, yet early on she chose to forge her own path with a creative role in a male dominated field. Starting out with passion, fortitude and only $200 in her pocket, she made a name for herself with her ever-evolving tastes and sophisticated style. 
Her creative direction, vast knowledge and experience with gemstones, diamonds and precious metals is married with a mechanical engineering understanding that ensures every piece is expertly crafted to withstand the test of time and be passed down to the next generation.
With every new piece, Chana strives to reimagine and reinvent, ensuring her sought-after collections align with strong, daring women everywhere.
Our Experience
Craftsmanship
In Carelle's New York design studio, skilled artisans meticulously handcraft the collections. Every piece begins and ends with the stone that inspires the creation. Crystallized over millions of years deep within bedrock, precious gems have a light and life of their own, and Carelle prides itself in showcasing their personalities and attributes.
Just as the value of a diamond is determined by its 4C's, so Carelle is distinguished by its 4Q's. Four qualities that are inherent in every Carelle piece.Quality of Design, Quality of Material, Quality of Workmanship, Quality of Finish
Our Approach
Bespoke
Carelle is proud to present extraordinary one-of-a-kind pieces, each showcasing our designer's mood for vibrant gemstones and building the house around them, transforming nature's irresistible artifacts to wearable art.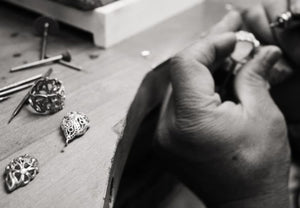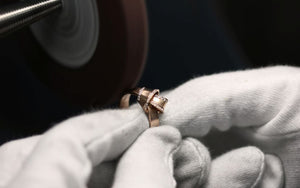 Our materials
High Standards
Carelle diamonds and gemstones, and the supply chain through which they are procured, are held to the jewelry industry's most rigorous standards. We do business only with vendors and suppliers who uphold our same exacting standards.
From start to finish, the details that go into creating Carelle jewelry – from the early stage of selecting stones to the final touch of laser engraving every piece of jewelry – happens in New York. Carelle's home-based operations and commitment to its employees are symbolic of the American dream, with the Made in NY certification a final touch on this vision.
Satin Finish
All Carelle pieces are polished to a beautiful satin finish for a more natural and organic look and feel
See Our Jewelry
5 year 'Re-Satin' Warranty
With continued wearing, the satin finish will change. Our 5 year warranty means you can return it to its 'as new look', for free at any point over this time period.
Get In Touch
Solid 18kt Gold
All Carelle pieces are available in solid 18kt yellow gold. Many are available on the site in 18kt white gold, and 18kt rose gold. If you don't see these options, please get in touch to discuss a special order.
Enquire